You can either be a victim of the world or an adventurer in search of treasure. It all depends on how you view your life. ― Paulo Coelho, Eleven Minutes
Tina says, "This week we're going on a Treasure Hunt!"  Wonderful, Tina.  I'm up for a bit of exploring and adventure.  After doing a bit of "digging" in my archives for "buried treasure,"  here's what I found.
A Street Performer, An Expressive Portrait, and a Musical Instrument
This shot combines three pieces of "treasure."  It contains a street performer and a musical instrument, and it is an expressive portrait.  During the annual Art Prize festival in Grand Rapids, I spotted this wonderful  performer singing with a lot of heart.  He definitely put into action the quote from the Bible hanging in the back of his van.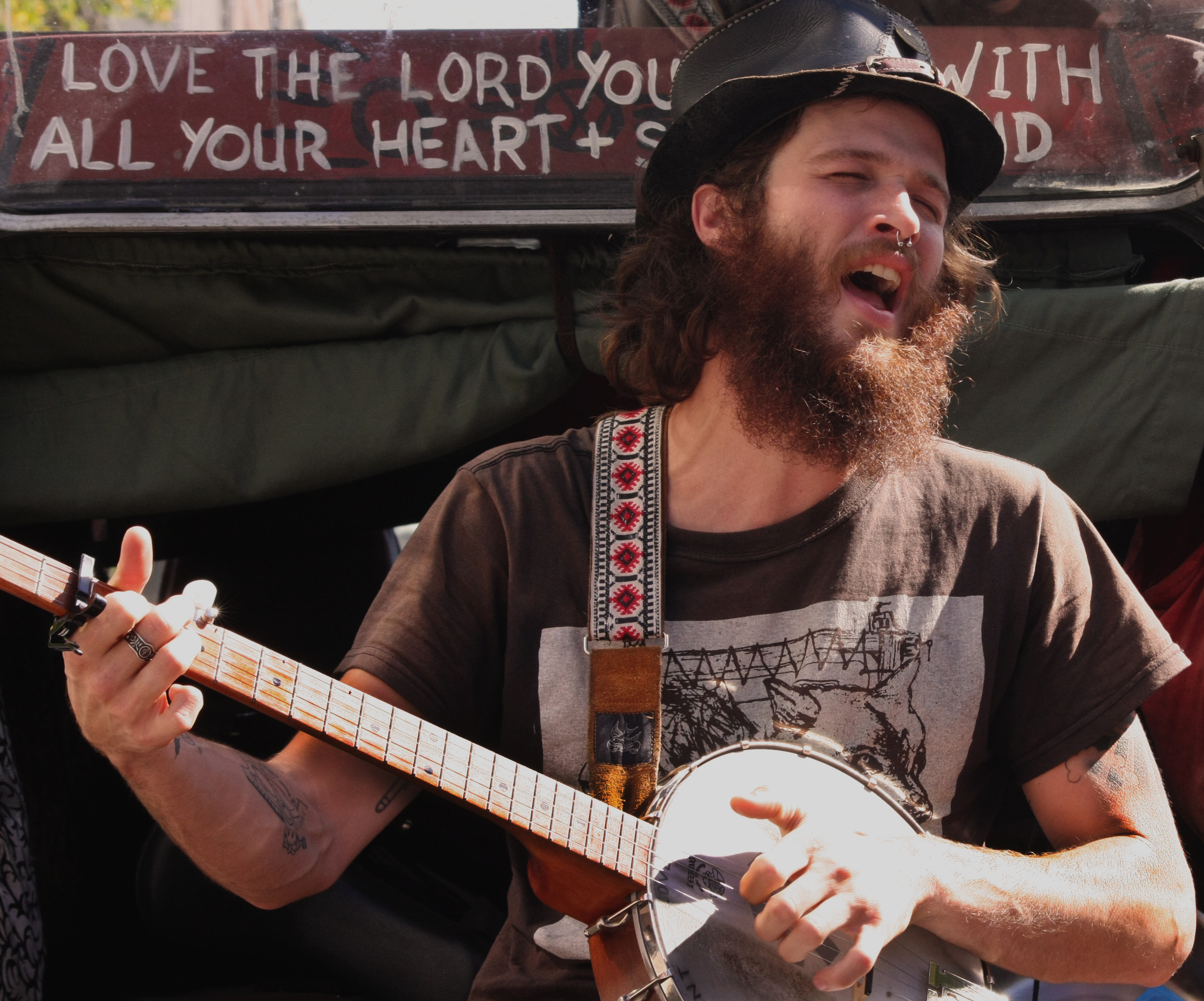 A Fish and An Animal I Don't Normally See
This photo contains 2 treasures.  I found this wonderful, gigantic fish sculpture made out of sheet metal hanging above a shipyard near Boston Harbor.  This image became the logo for this blog back when I called it "Pilot Fish."  I've never seen a fish sculpture before or since that was at least 25 feet long.  That's why I included it in the category of an "animal I don't normally see."
An Expressive Portrait
In the summer, people gather in Rosa Parks Circle in downtown Grand Rapids to learn how to dance.  I loved the expression of delight on this little girl's face as she learned the dance moves.
A Double Rainbow and an Unusual Place
My last photo combines two "treasures."  Several years ago, we were visiting the uniquely beautiful city of Sedona, Arizona on a rare stormy day.  After the rains, the skies cleared and Mother Nature provided us with this beautiful double rainbow.   You can see the smaller and fainter second rainbow to the left of the first one.  Sedona is one of the places in the USA with unique red rock formations that are spectacular–as you can see in the distance in this photo.
As I wrap up this post, I'll return to the opening quote from Paolo Coehlo, which reminds us that life can be an adventure with unexpected treasures–if we choose to look at life that way.  To be honest, at times I struggle to maintain this perspective, but when I do face life with a spirit of adventure, I am always rewarded.   It's great advice, I believe.
I'll end this post with an important message.
A Special Announcement: 
All of us at Lens-Artists are delighted to announce that March 7th challenge (#87) will be hosted by our special guest host, Miriam Hurdle at The Showers of Blessings   Please be sure to visit Miriam's site on Saturday, March 7th to view her challenge.  For the rest of February and March, we'll follow our usual weekly schedule:
As always, Amy, Tina, Ann-Christine, and I look forward to seeing your creative responses to the challenge and thank you for your support.   I hope this week brings you many creative treasure and discoveries.