Our current lifestyle of full-time traveling has been derailed by the current pandemic.  In fact, we were a bit dismayed by the national advisory to stay at home, since we don't in fact have a home!  Fortunately, a long-term rental solved that problem for a while.
As the days and weeks of hibernation continue, we often think about returning to some of our favorite places around the world.  We've already thinking about exploring some new sites in our favorite places, and having some new experiences.  Fortunately, the theme for this week's LAPC Challenge #92 is "Second Time Around," led by our guest host, John Steiner, who is an avid traveler and photographer.  Welcome John!  Your timing for this theme couldn't be better.
Vancouver and Okanagan, B.C.
One of our favorite cities is Vancouver, the current home of our son Alex.  He has taken us on walks over the Burrard Bridge at various times during the day.  This shot, which some of you may remember, was taken one evening in September as dramatic clouds moved swiftly over the city.
On our last trip, Alex took us to Okanagan–a more remote region in British Columbia–famous for its vineyards and fruit orchards.  Much to our surprise, the climate and topography closely resembles the desert Southwest in the United States.  I'd like to go back and explore more of this region and the Yukon.
Florence, Italy
For those of you who have been following our travel adventures, it will be no surprise that we're also planning on returning to Firenze, a city we love so much.  I had to repost this shot of the Duomo at sunset, which is one of my fondest views of the city.
Although it's tempting to think we've explored every inch of the city, I am sure we will find some new places that will surprise and delight us.  On our last visit, we explored the fabulous and little known Museo della Misericordia, which commemorates the long history of this benevolent society founded in 1244.  Over the centuries, the members of this society have provided aid to victims of the plague and cholera epidemics, and provided transportation for the sick.   As an added bonus, the museum also has a fabulous view of the Duomo and Il Baptistero.
Edinburgh, Scotland
Another place on my list is Edinburgh, Scotland, which we visited for the first time in October, 2019.
Late one afternoon, I visited the Palace of the Holyroodhouse, the queen's magnificent royal residence in Scotland.  As the sun was setting, I took a quick walk through the ruins of the Abbey on the right and the palace gardens, which were dramatically highlighted against the hills in the distance.  These mountains named Arthur's Seat are in fact a series of extinct volcanos.  The place and the scenery were absolutely stunning, the people were friendly, and the food was fabulous.  For all these reasons,  we want to return there.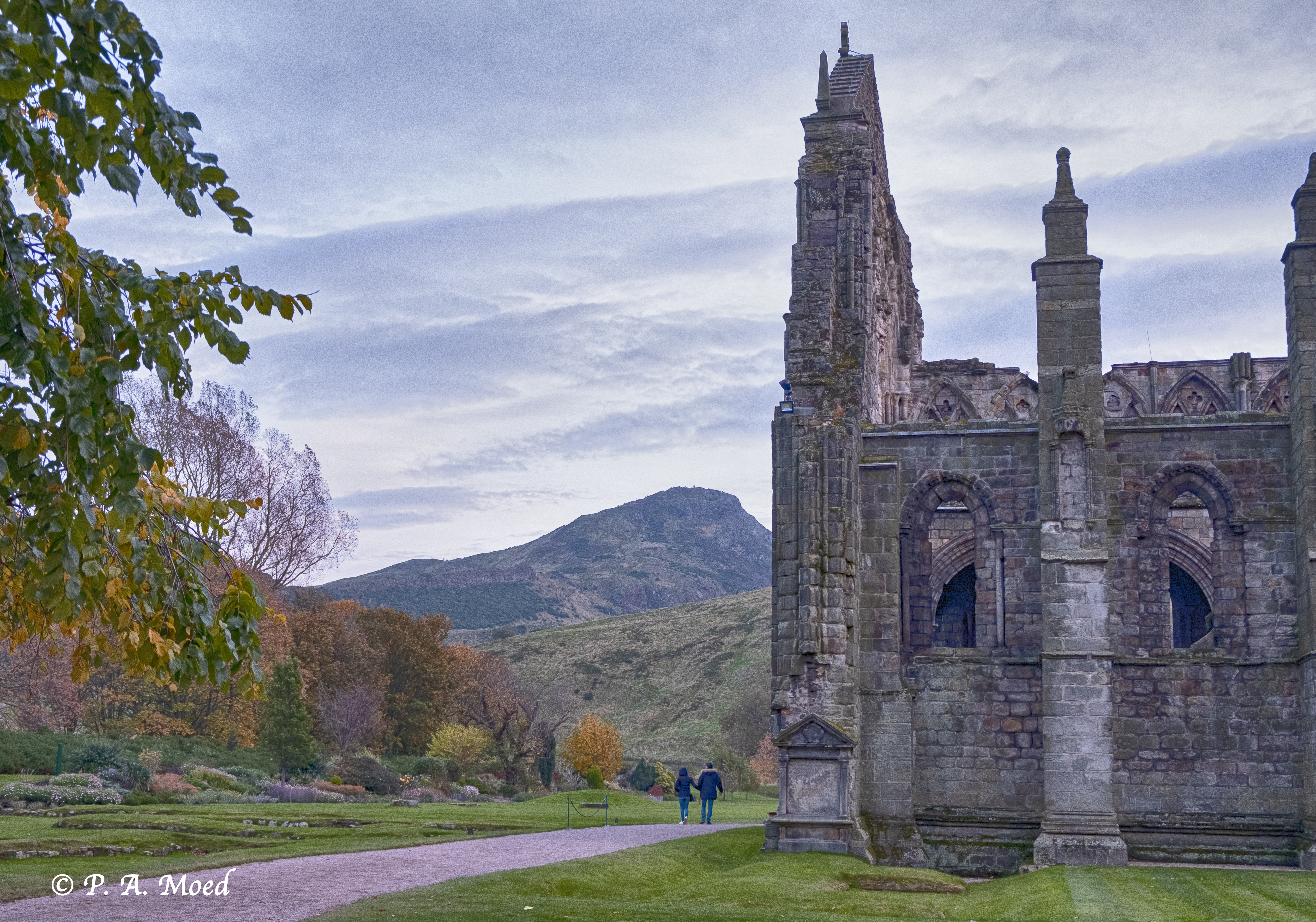 In closing, I'd also like to add a special note to all of you who joined our "Simplicity" challenge last week.  It was so gratifying and exciting to see all your posts, filled with moments of peacefulness, beauty, and fun.  Your willingness to keep creating, sharing and reaching out to others during these challenging and often lonely times help make us all feel better, and help remind us that good things can come from adversity!  My sincere thanks to all of you.
We hope you join us this week's for John Steiner's terrific "Second Time Around" challenge which you can see by clicking John Steiner of Journeys with Johnbo.   For the rest of the month, our schedule is:
Once again, my closing words for this week are: stay well, stay safe, and keep creating!