This week, Tina invites us to visualize the theme–"All Wet."
What does "wet" look like? After a search through my archives, I uncovered these shots, taken over several years and in several locations.  Each shot brought to mind different feelings and/or memories about "wet" and "water."
So, here goes:
Cocoa Beach, Florida
Remember the high board at the swimming pool? After days of looking up at it you finally climbed the wet steps to the platform. From there, it was higher than ever. There were only two ways down: the steps to defeat of the dive to victory. You stood on the edge, shivering in the hot sun, deathly afraid. At last you leaned too far forward, it was too late for retreat, and you dived. The high board was conquered, and you spent the rest of the day diving. Climbing a thousand high boards, we demolish fear, and turn into human beings.~Richard Bach
This little boy brings to mind a child's fear of the sea–that roaring, raging mass that stretches as far as the eyes can see.  He is deliberating whether he will conquer his fear or surrender to it.
I remember feeling the same way when I first took swimming lessons at my local beach on Long Island Sound.  I spent weeks deliberating whether I could master my fear of swimming out beyond the buoys, diving to the bottom, and bringing up a handful of sand–the final test for my Red Cross certification.   On the day of the test, the wind picked up and storm clouds rolled in, but we managed to complete the test before the rain began.  I'll never forget the feeling of accomplishment and the joy of overcoming my fear.
Gilford, New Hampshire
The most affectionate creature in the world is a wet dog.~Ambrose Bierce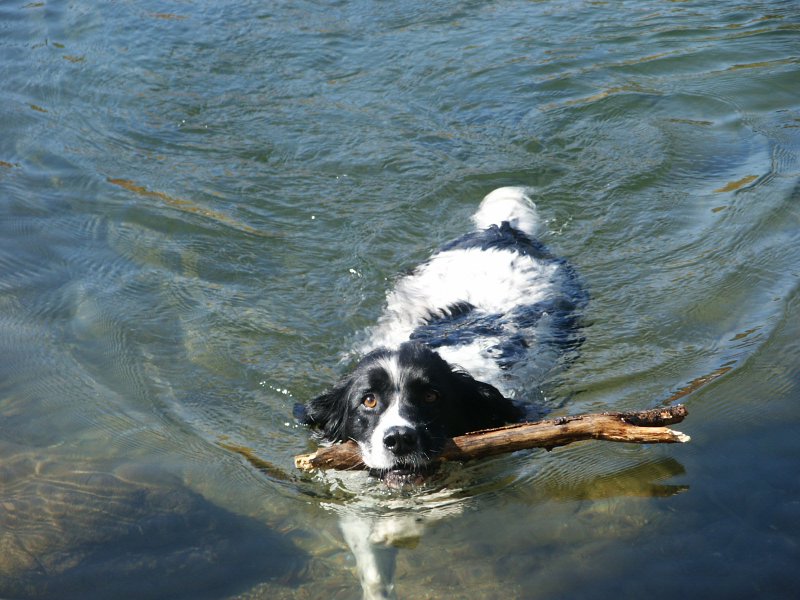 Our adorable and loving springer spaniel had absolutely no fear of the water.  Max would find any excuse to jump in the lake and get wet.  He also loved to shake himself dry when standing near us.   He had absolutely no fear of the water–but he wouldn't jump off a dock into the lake. He preferred to walk into the water.
Hollywood, Florida
Sunshine and waves are like bacon and eggs~Theodore W. Higginsworth
This shot, of a mother and son sitting in the surf is an old favorite.  I love how they're sharing a moment of play at the water's edge.  Not many children would turn down a day at the beach or the chance to play with a parent.
Chicago, Illinois
I'd rather sing one wild song and burst my heart with it, than live a thousand years watching my digestion and being afraid of the wet.~Jack London
I always love to see children screaming in delight when a jet of water erupts from this sculpture in Millennium Park in Chicago and soaks all of them.  They love the unpredictability of not knowing when the water will shoot out and when they'll get soaking wet.  I wish I could still feel the same excitement as an adult!
Savusauv, Fiji
This last shot of my husband and our Fijian guide brings to mind a wonderful day when we visited this waterfall on tribal land in Savusavu.  That day, we had the waterfall to ourselves.  I felt like an explorer "discovering" hidden treasure–a feeling that I remember having as a child when we were exploring new places in our neighborhood on our bikes.  Our visit also reminded me of the raw power and beauty of nature, which our western civilization has always sought to "conquer" and "tame," instead of trying to learn from it.
As I worked on this post, I was reminded of how water can bring out the child in us all.  It also gives us an opportunity to conquer our fears, play in the sand and sea and joyfully exist in the moment.  When the quarantine ends, I will be looking for a pool to swim laps.   Some of my favorite summer memories are swimming in the dappled sunlight with the warmth of the sun on my shoulders.  I will not take this simple pleasure for granted.  I now understand that it's a luxury.
In closing, I hope you stop by and see Tina's beautiful post and share your unique interpretations "All Wet."
Next week, it will be my turn to host LAPC #96, so please stop by and join the fun.  We'll also be announcing a very special guest host for Lens-Artists Photo Challenge #97.  Stay tuned for more details.
Once again, my closing words for this week are: stay well, stay safe, and keep creating!