We're delighted to welcome, Sue (Mac's Girl) as this week's guest host for Lens-Artists Photo Challenge #97.   As Sue has chosen the theme of Pastimes, I'm delighted to share some of my favorite activities which have given me hours and hours of enjoyment over many years.
Exploring New Food and Recipes
First we eat, then we do everything else.~MFK Fisher
An unexpected pleasure during quarantine has been rediscovering my love of new food and new recipes.
My love affair with food started when I was very young and often very hungry.   I was inspired by the true chef in my family, my Italian grandfather, who on holidays, filled an entire table with homemade ravioli, left to dry, before sliding the pillows of pasta into a boiling pot of water.
My most recent "love affair" is with tomatillos–a Mexican green tomato with a papery husk and a tart taste.  Yesterday I tried a new recipe for chicken with tomatillo sauce.  After peeling the husk of the tomatillos and slicing them in half, I broiled them with some garlic.  Then, I mixed them in a blender to create a sauce with adobo peppers, cilantro, lime juice, and other spices.  After that, I added the sauce to some sauteed chicken and onions in a large frying pan.
After several hours of cooking, the sauce intensified, creating layers of flavor–tart, spicy, and savory.  I will definitely make this dish again.
Discovering Artistic Treasures
The main thing is to be moved, to love, to hope, to tremble, to live. – Auguste Rodin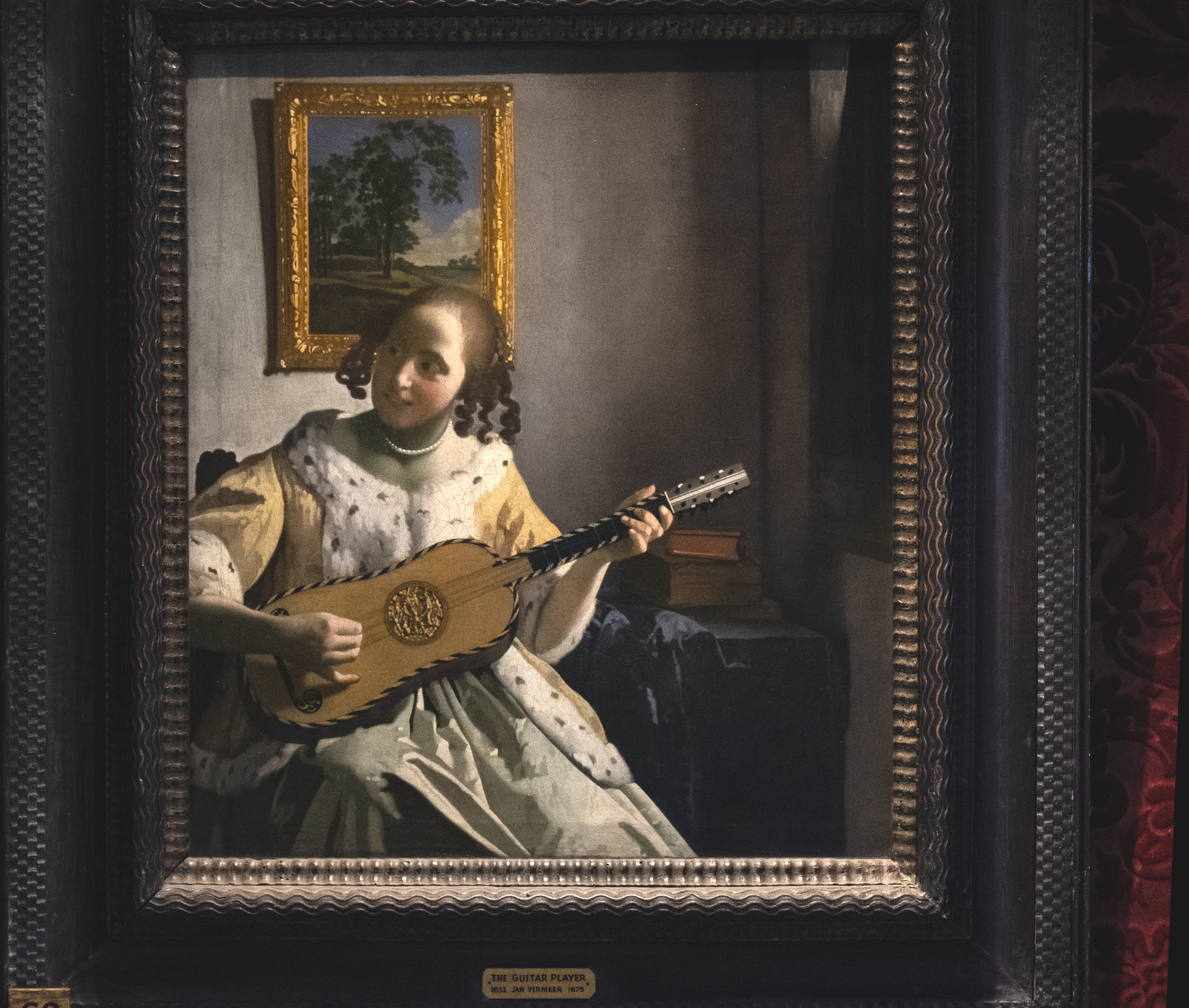 This image highlights another pastime–discovering wonderful artistic treasures.  On a trip to London in the fall, our new British friend took us to Hampstead Heath, a beautiful park with dozens of walking trails and ponds and so many dogs running around that I couldn't be happier.  But then, she surprised us by taking us to a mansion on the grounds of the park. Kenwood is the former home of several British earls and the Irish businessman, Edward Cecil Guinness, who bequeathed his art collection to the nation.  I stood in wonder in front of this work by Vermeer, who brilliantly captured the light and the spirit of the girl playing the guitar.   The artistic creations of this Dutch master are joyful and beautiful.
Learning Something New and Surprising
The beautiful thing about learning is that nobody can take it away from you.― B.B. King
I love moments of surprise and wonder when I learn something new–another favorite pastime.
This photo marks the moment when I discovered that the famous scientist Albert Einstein had a daughter, Margot, who was an artist.  Her sculpture of a mother and child was on display in an unlikely place–in a small church in the town of Fiesole, a short bus ride from Florence.  Both the art collection and the identity of the artist were a complete surprise.
Another recent "aha" moment was when my Italian teacher told me that "quarantine" was based on the Italian words "quaranta giorni" (40 days).  That's because the word "quarantine" originated in the 14th century during the plague.   When ships arrived in Venice from coastal cities with plague epidemics, the Venetians required that the captain and crew wait 40 days before disembarking and unloading their cargo.
Exploring New Places, Photographing Them, and Writing About Them
We shall not cease from exploration, and the end of all our exploring will be to arrive where we started and know the place for the first time.~ T.S. Eliot
My last three pastimes will not surprise you–exploring new places, photographing them, and writing about them.  During the quarantine, we have renewed our hope and desire to continue our travels, but in the meantime, we are contenting ourselves with planning and dreaming of our next adventures.   Some of my favorite memories are those times when we stumbled upon an amazing site–like this moment captured on the roof of the Oespedali degli Innocenti in Florence.  Who would expect to find a spectacular view of the city from the roof of an orphanage?   The panorama was breathtaking as storm clouds gathered and thunder rumbled.  I'll never forget that moment.
A special thanks to Sue for stepping in as our guest host this week.  I'm looking forward to seeing your creative and unique  "Pastimes".  If you join us, include a link to Sue's challenge post and use the "Lens-Artists" tag so we can find your post in the Reader. 
Before I close, I want to tell you how much I enjoyed your "Cropping The Shot" posts from last week's challenge.  I always learn something new from you!  Your presence in our online community helps to reassure us all that we are not alone and our creativity is essential, especially during times of uncertainty.
Stay well and stay safe, everyone.
Here's our schedule for the rest of May: