The color of springtime is in the flowers; the color of winter is in the imagination~Terri Guillemets
Our friend
Ann-Christine
is leading the challenge this week with her
Winter
theme.  She is wrapping up a month of
Seasons
here for our
Lens-Artists Photo Challenge
.  For this week's theme, I decided to focus on our time spent in the Midwest when the long winter months were often filled with many overcast days.  From time to time, the clouds parted and the sun burst through the clouds, but we often waited weeks before a truly bright and sunny day.   In this first shot, you can see me on a typical Michigan winter's day with an overcast sky in the background.  This image was taken by Ann Teliczan, a professional photographer from Grand Rapids, Michigan when we went on a photo shoot one winter's day.

One kind word can warm three winter months.~Japanese Proverb
Our high-rise apartment in Grand Rapids, Michigan gave us a wonderful view of the Grand River and the surrounding area.  In winter we watched the weather shifting and storms blowing in.  Here's a shot taken in the early morning on a foggy winter's day.  If you look closely, you can see the ice floes on the river.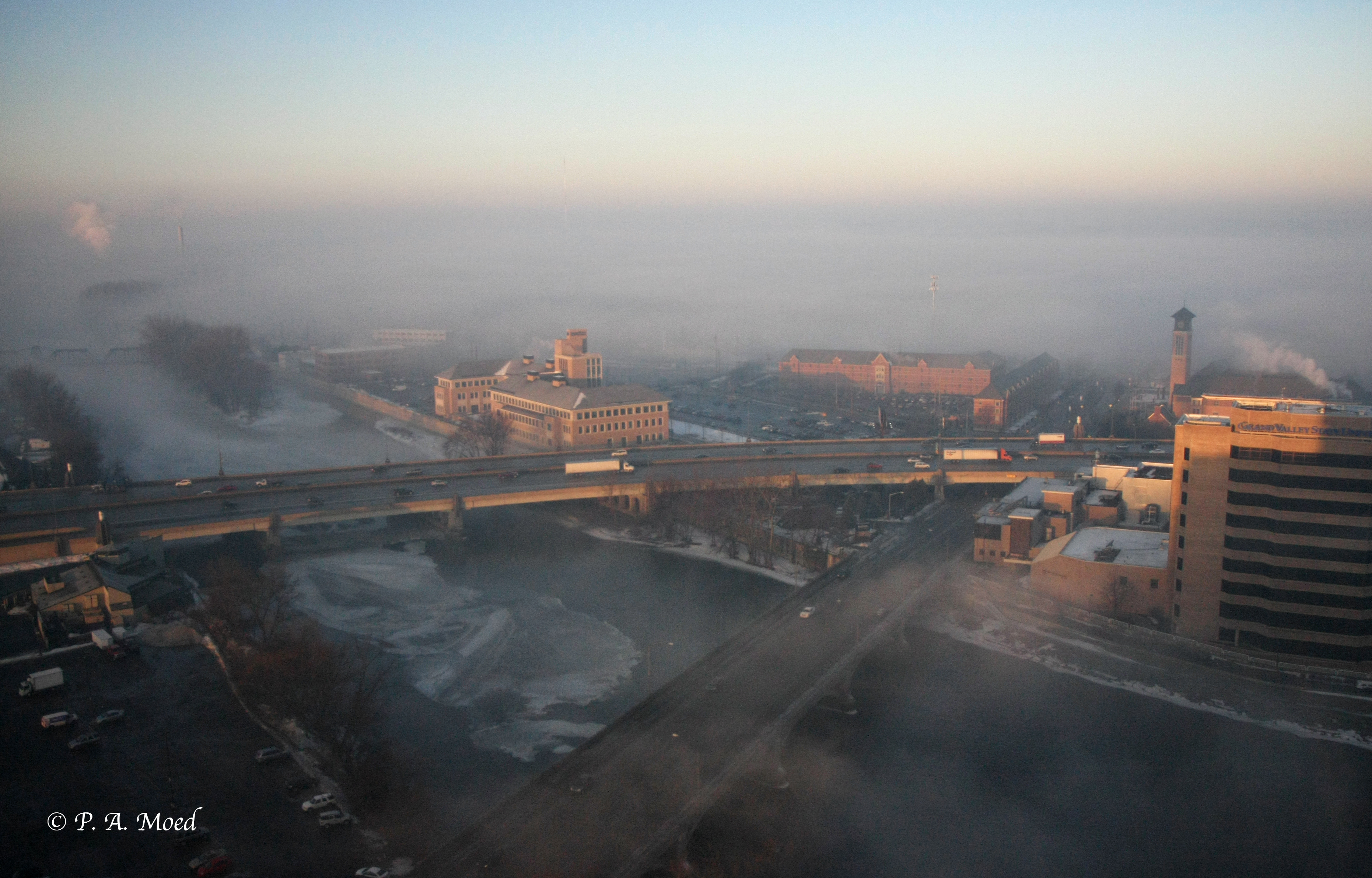 Here's another view of the river at sunset, which was often spectacular.  In this shot you can see thicker ice floes to the left.
My old grandmother always used to say, summer friends will melt away like summer snows, but winter friends are friends forever.~George R.R. Martin, "A Feast for Crows"
One of our favorite places in Michigan was Holland State Park.  Here you can see kids climbing on the sand dunes covered with snow.  The green and white striped lighthouse is to the left.  The ice typically lasted until the end of April.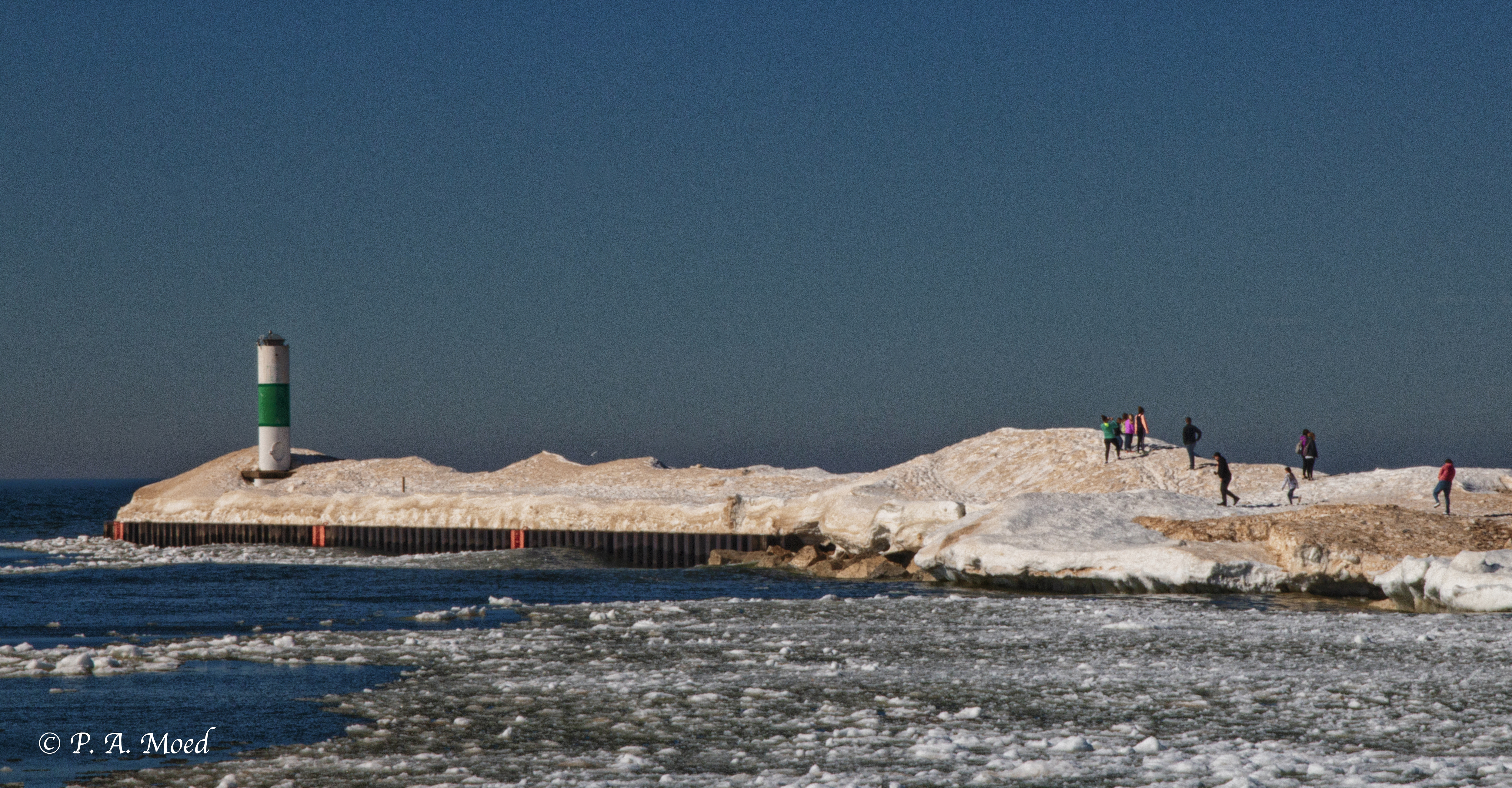 Winter is the time for comfort, for good food and warmth, for the touch of a friendly hand and for a talk beside the fire: it is the time for home.~Edith Sitwell, "Taken Care Of"
Chicago's winters are notoriously frigid, but for those of us who braved those wintery winds, we were rewarded with wonderful light displays and great exhibits at Chicago's world class museums.
If winter comes, can spring be far behind?~Percy Bysshe Shelley, "Ode to the West Wind"
Once, while walking on Michigan Avenue in Chicago, I spotted this cluster of sparrows, which made me smile.  It seemed to me that these hardy little birds were huddling together for warmth.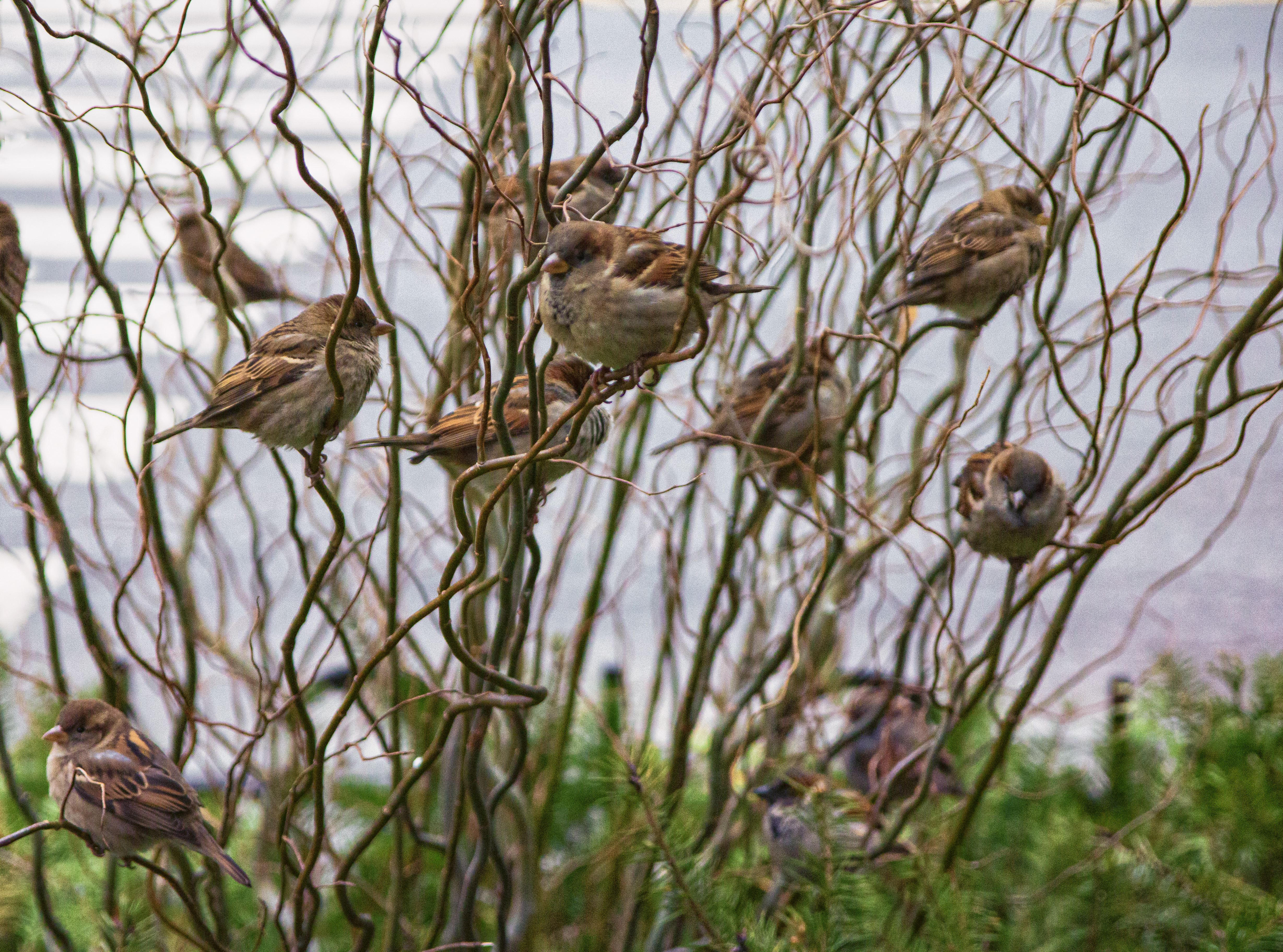 Winter is a challenge for some of us.  Are you like me and struggle with the cold?   Despite that, I've lived all of my life in places with frigid winter temperatures.  Over the years, I've developed a system of dressing in layers based on the temperature.  (Below 30 degrees F, I wear a silk layer, underneath the wool.  Below 0 degrees F, I wear a double layers of socks and my warmest marino wool sweaters.)  Canadian boots and down jackets are great insulation, too.  But I must confess that I look forward to spring!
A special note to those of you who joined us last week for the Autumn challenge.  It was a pleasure to view your delicious fall colors and scenery, highlighting the natural beauty of the season.  Many of you included memories of joyful celebrations, which were uplifting and fun, too.  I'm so glad you joined us!
Next week, we have a special treat.  We're delighted to announce that
Xenia Tran of Tranature
will be our next guest host for
LAPC #108
on Saturday, August 1
when she'll be sharing her chosen theme and beautiful images to inspire you.
And finally, I hope you are enjoying the beauty of the season in your part of the world.   Once again, thank you for being a part of our Lens-Artists Photo Challenges.  Your participation and creativity are a gift to us during these trying and often stressful times.  Take care and be well.