Simply put positive space is the actual subject while negative space (also called white space) is the area that surrounds the subject. The latter acts as breathing room for your eyes. Too little negative space results in photos that are cluttered and busy with every element in the photo screaming for your attention.  ~Nico Gooden
This week, our friend, Amy, has given us a wonderful theme for LAPC #114.   She is challenging us to focus on negative space, which surrounds the subject and helps to highlight it.
Fortunately, on our road trip from Michigan to California several years ago, we passed through New Mexico.  One morning, we stopped in Albuquerque to have breakfast with friends who were traveling through the area at the same time.  It was a great morning catching up with friends and enjoying the dramatic New Mexico landscape.  I have to confess that I'm in love with the endless desert vistas in the Southwest.  The sky seems to go on forever.  All that negative space helps to create dramatic landscapes.
In both images below, the sky dominates the picture.  As negative space, it serves to highlight the much smaller subjects–the sign and the farm.   I processed both shots in black and white to accentuate the drama of the skies and to help create the mood of isolation and even loneliness.
Sign on the Road to Albuquerque
Abandoned Farm, Albuquerque, NM
A Foggy Day at Dee Why Beach
This next image was taken at Dee Why Beach, near Sydney Australia, on a rare foggy day.  I processed the image in black and white and added a sepia filter, which helped to accentuate the foggy background and draw attention to the woman, sand and waves in the foreground.  I was looking to create a dream-like atmosphere.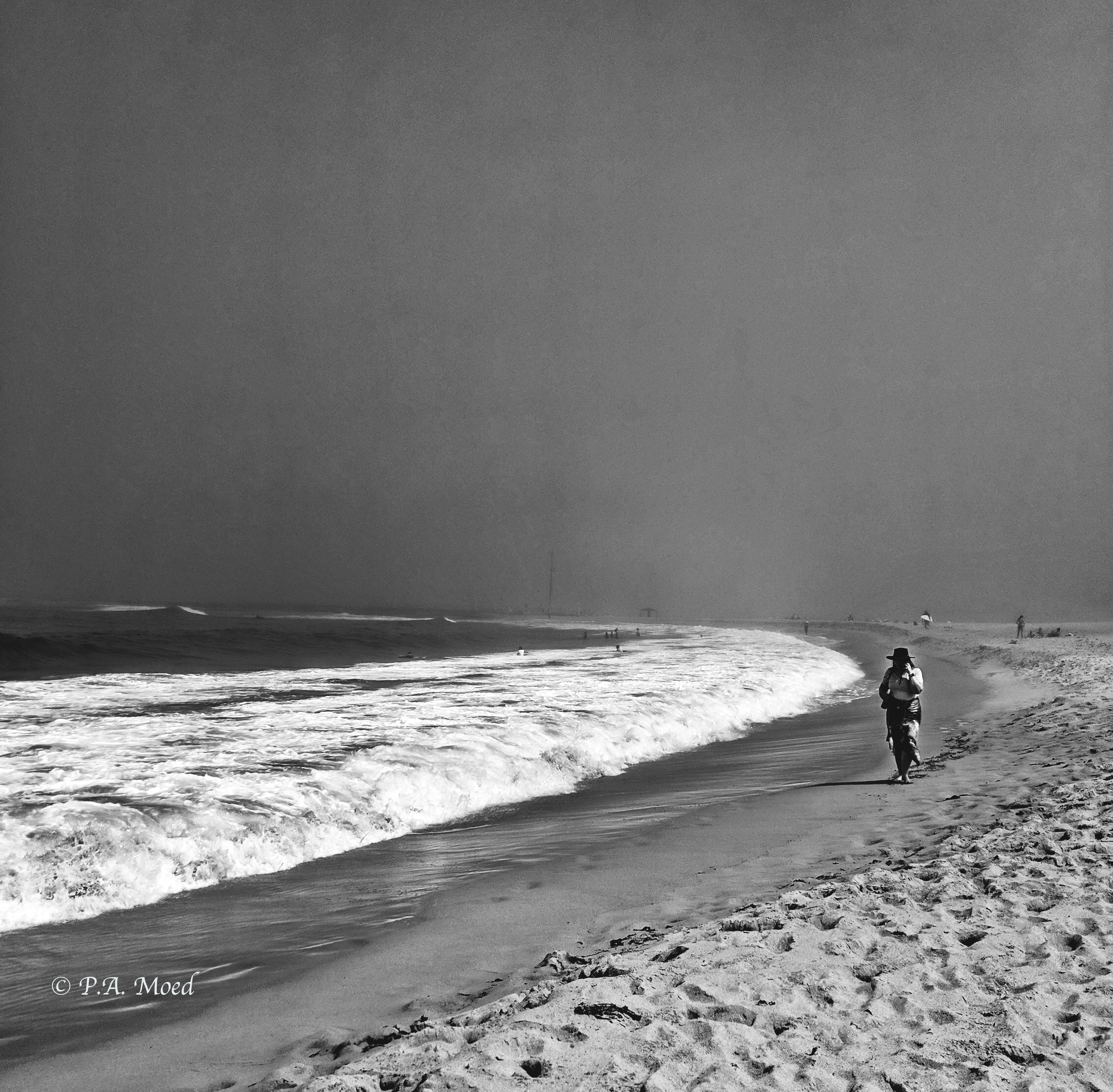 Frozen
I captured this image one morning on my way to the office on a bitterly cold day.  As I parked my car and walked through the snow, I spotted the frozen remains of a summer flower.  It looked sad and a bit pitiful–a perfect match for my mood on that winter day!  The negative space (the vegetation) is a neutral backdrop, and doesn't interfere with the flower in the foreground.  In fact, it helps to focus the viewer's attention on the flower.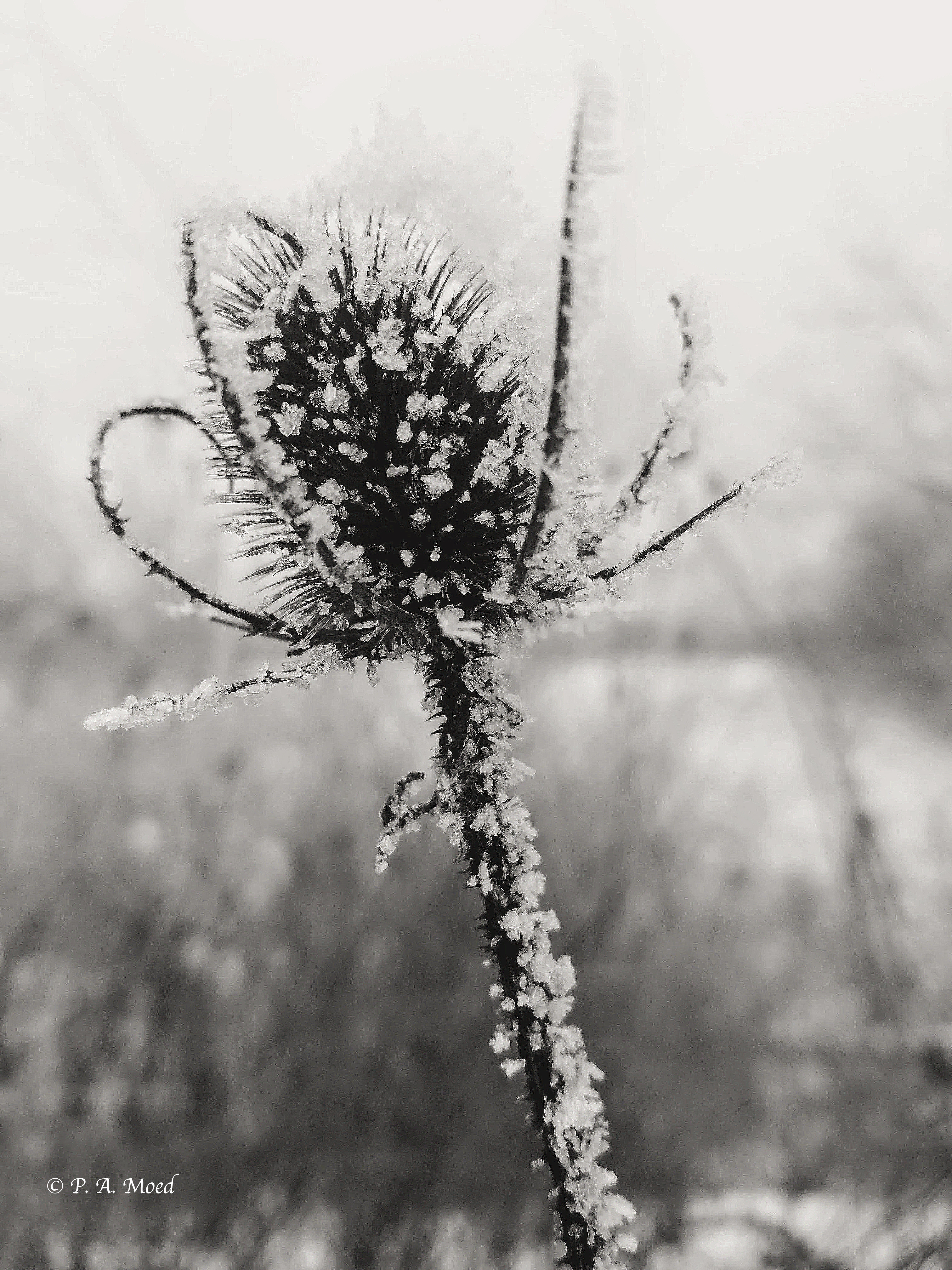 Pine Tree Silhouette, Ordione State Park, New Hampshire
This last image was taken recently on a hike through Ordione State Park on a bright summer day.  The sunshine in the background created a dramatic silhouette of a pine tree.  The clouds in the background function as negative space, which helps to highlight the tree in the foreground.
A special thanks to Amy for hosting LAPC #114: Negative Space this week.  Her theme had me thinking about how to use negative space when composing my photos.  I really appreciate that!  We hope you join us this week and share your photos which highlight negative space.  Please be sure to include a link to Amy's post and the tag "Lens Artists" so we can find you easily in the WP Reader.
And another big thank you to Rusha Sams for hosting LAPC #113, A Labor of Love last week. Her theme inspired a variety of interpretations and gave us a wonderful window into people at work around the globe.  Some of you shared a few favorite projects, which are your labors of love, such as gardening, enjoying gourmet food, and playing music.  Thank you, Rusha, for leading all of us!
Here's our host schedule for the rest of September:
In closing, I hope you can find a little oasis of peace and creativity amidst the crazy whirl of life!  Take care and stay well.