Every moment happens twice: inside and outside, and they are two different histories.~ZADIE SMITH, White Teeth
This week, for Lens-Artists Photo Challenge #115, Tina asks us to explore the theme of inspiration.  Her intriguing prompt has me searching through my archives and wondering how I'd define it.  No matter where and when inspiration strikes, it always happens in the same way.  It's a moment when I feel a shiver of excitement, surprise or wonder about what I am seeing and/or experiencing.  That connection between the inside (feelings) and the outside (what I'm seeing) is an essential component of inspiration.
So, without any further delay, here's my inspiration collection taken close to my home in New England.
Nature's Beauty
On earth there is no heaven, but there are pieces of it.~Jules Renard
Nature's beauty is always a wonderful source of inspiration.  It is a little bit of heaven on earth.
Earlier in the summer, I mentioned that Portsmouth has many wonderful public gardens, including Prescott Park.  In the evenings, I've been taking walks to capture the flowers in the fading light.   It's a magical spot, which always inspires me and puts me in a great meditative state.  Here are some black-eyed Susans shot a few weeks ago at sunset.
Black-Eyed Susans at Sunset
Those who contemplate the beauty of the Earth find reserves of strength that will endure as long as life lasts. ~Rachel Carson   
This summer, the sunsets over Portsmouth were spectacular.  In this shot from August, you can see a church steeple silhouetted against a gorgeous evening sky.  The sky was so stunning that night that I ran for my camera so I could always remember that moment.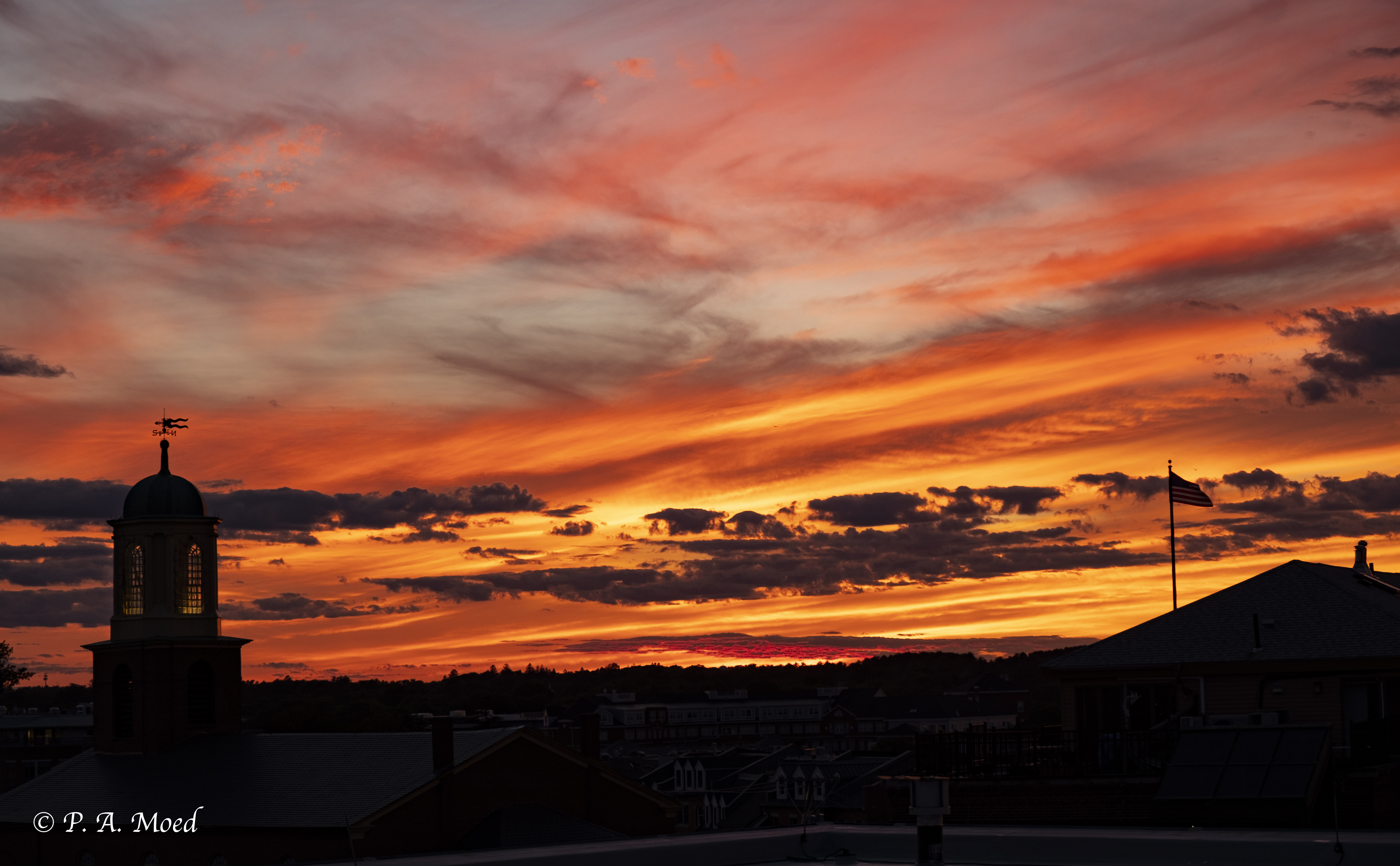 History
Human history is a history not only of cruelty, but also of compassion, sacrifice, courage, kindness. What we choose to emphasize in this complex history will determine our lives.~HOWARD ZINN, A Power Governments Cannot Suppress
As the pandemic continues, I'm intrigued and inspired by hopeful bits of history that reinforce my belief in "the compassion, sacrifice, courage, and kindness of mankind'–to quote Howard Zinn, one of my favorite historians.  My current historical obsession is with the lighthouses that dot the Atlantic coast.  They have an interesting history of protecting sailors, their ships, and their cargo from dangerous waters.   Earlier this week, we visited York, Maine and got a good look at the Cape Neddick Light Station erected in 1879.  It is still in use today.  Located on Nubble Island, this steel structure is nicknamed "the Nubble."  Given that there are over 200 lighthouses in New England, we'll have plenty more to visit.  It's thrilling to see this bit of history so meticulously maintained and still doing its job for so many decades.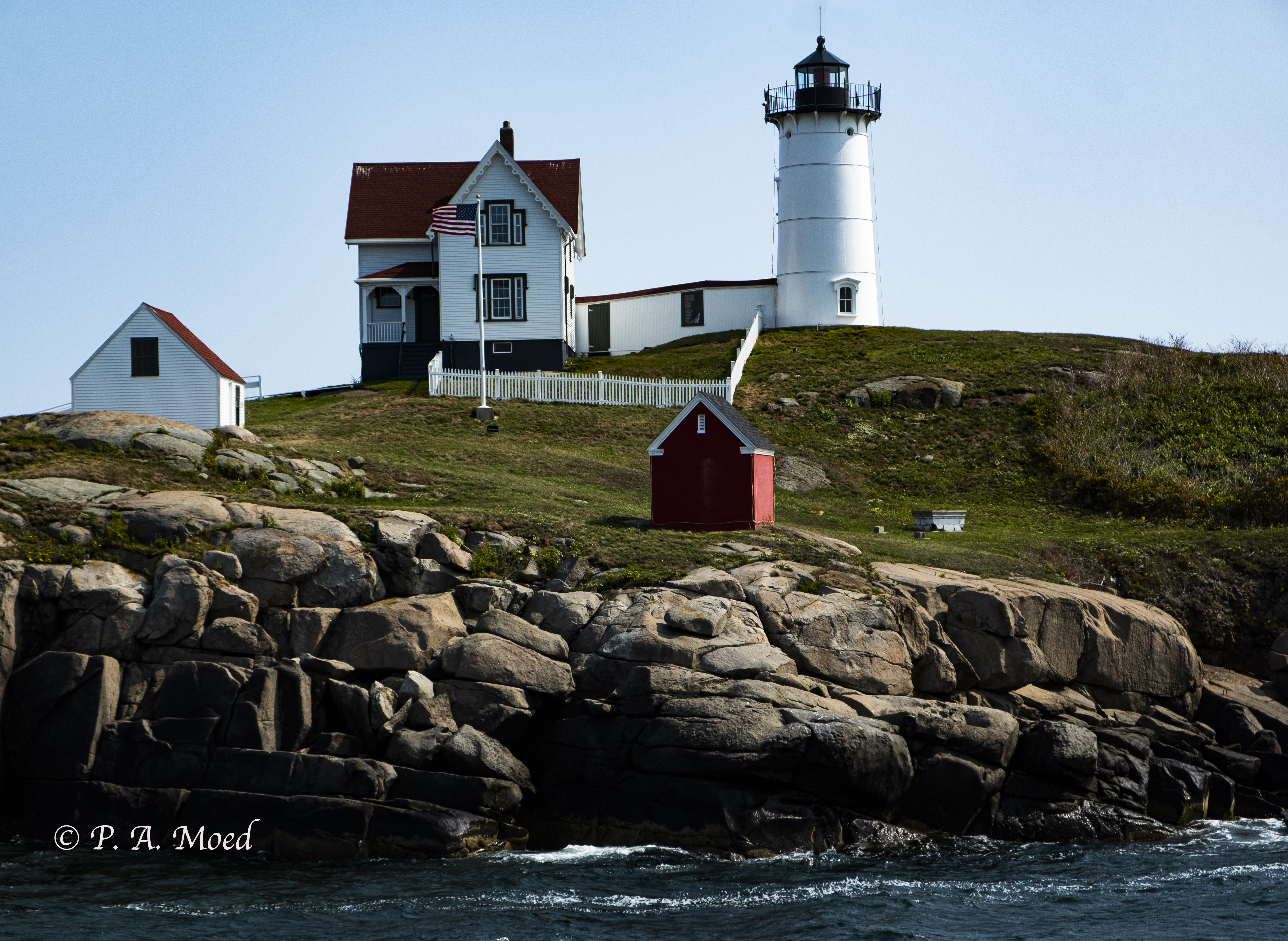 The charm of history and its enigmatic lesson consist in the fact that, from age to age, nothing changes and yet everything is completely different.~ALDOUS HUXLEY, The Devils of Loudun
Portsmouth has a long history associated with shipbuilding, seafaring, and transportation.  It's also home to one of the 100 "whaling wall" murals painted by the famous marine artist, Wyland.  Over a 27-year-period, he created these paintings in 5 different continents, in 13 different countries, and 79 different cities.  The mural below, whaling wall number 37, was painted in 1993 on the wall of a building in a parking lot near the center of town.  It's called "Isle of Shoals Humpbacks" and beautifully portrays the magnificent whale, which has inspired other creative artists, like Herman Melville, author of Moby Dick.  I'm hopeful that efforts to restore the mural will be successful.   It's a wonderful piece of creative and marine history that shouldn't disappear.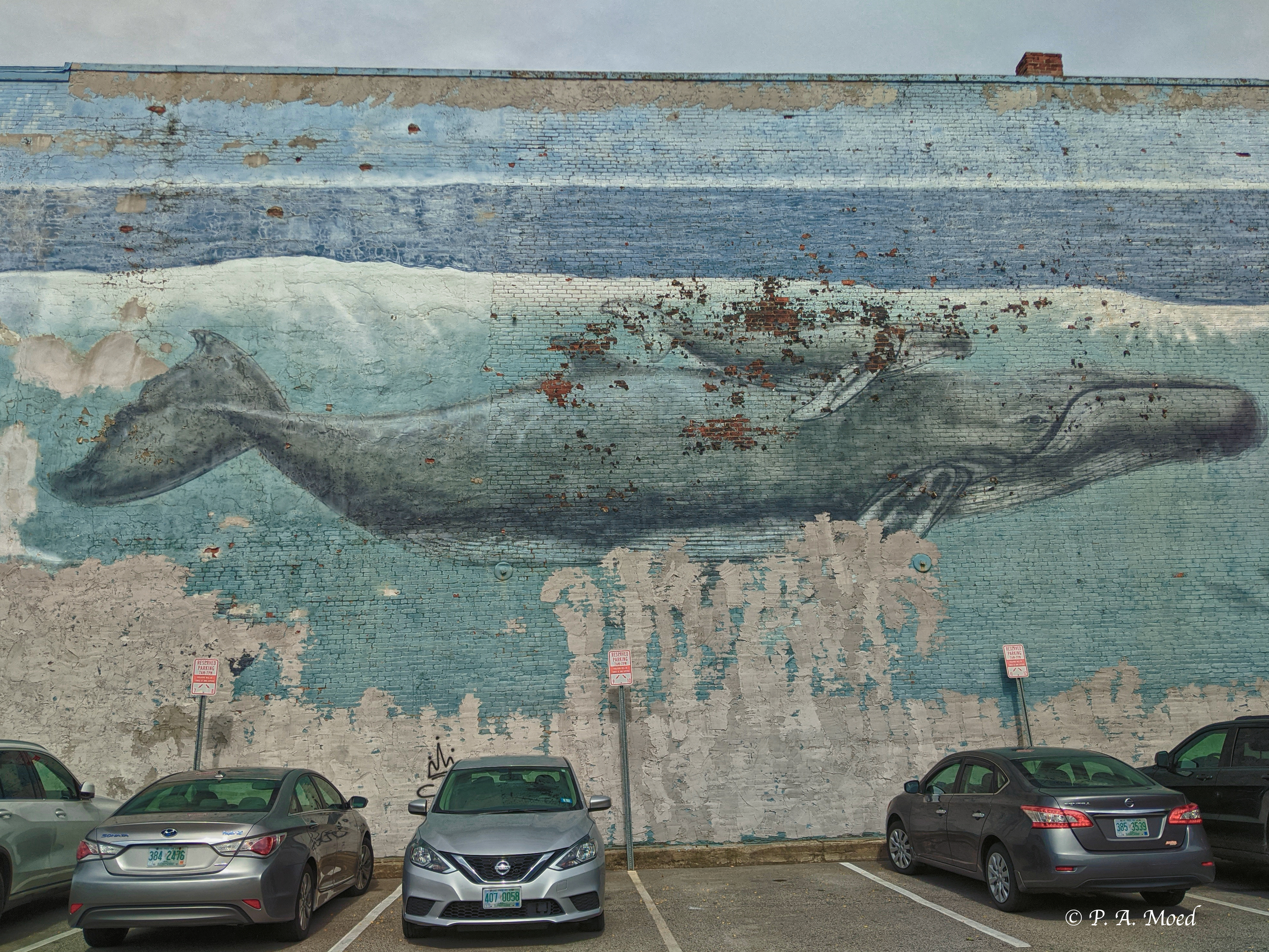 The Quirky and Unusual
Human salvation lies in the hands of the creatively maladjusted. ~ Martin Luther King
Creative quirkiness never fails to inspire me.  On a friend's recommendation, I followed the narrow streets lining the harbor and tracked down the Museum of Dumb Guy Stuff.  It was hard to miss this 6-foot wooden tower manned by GI Joe action features.  Here, you can see two "Joes" at work, monitoring the streets of Portsmouth and working on a construction project.
The museum is a labor of love of the writer and collector Clayton Emery.  It features hand-made wooden displays featuring famous western outlaws and heroes like Wyatt Earp and Billie the Kidd.  It also has quirky tableaus of famous people in unlikely jobs–such as, General Omar Bradley as a storekeeper, Sean Connery as an undertaker and Barbie dolls as saloon hall dance girls.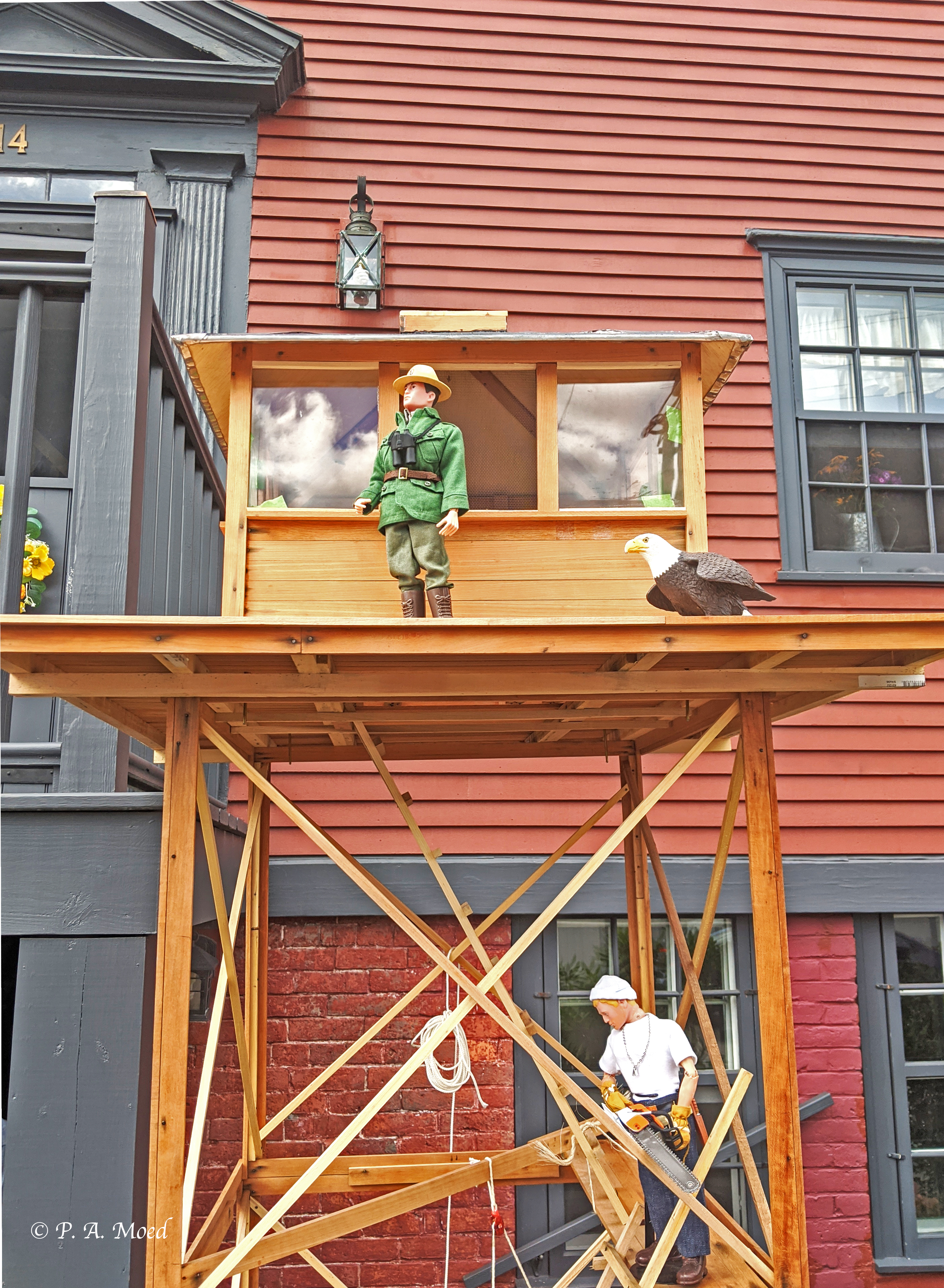 Blessed are the weird people – poets, misfits, writers, mystics, painters & troubadours – for they teach us to see the world through different eyes. ~ Jacob Nordby
My last photo is a bit strange and wonderfully quirky.  I laughed out loud when I saw this quote engraved on a headstone in one of the local cemeteries.  A quick Google search tells me that the quote comes from the movie Mame and is a line spoken by the leading character Auntie Mame played by actress Rosalind Russell.  In the movie, Mame is telling a timid secretary to break out of her shell and enjoy life.   But why would a Portsmouth man (or his family) choose that quote for his gravestone?  What was its personal significance?   I don't have any answers yet!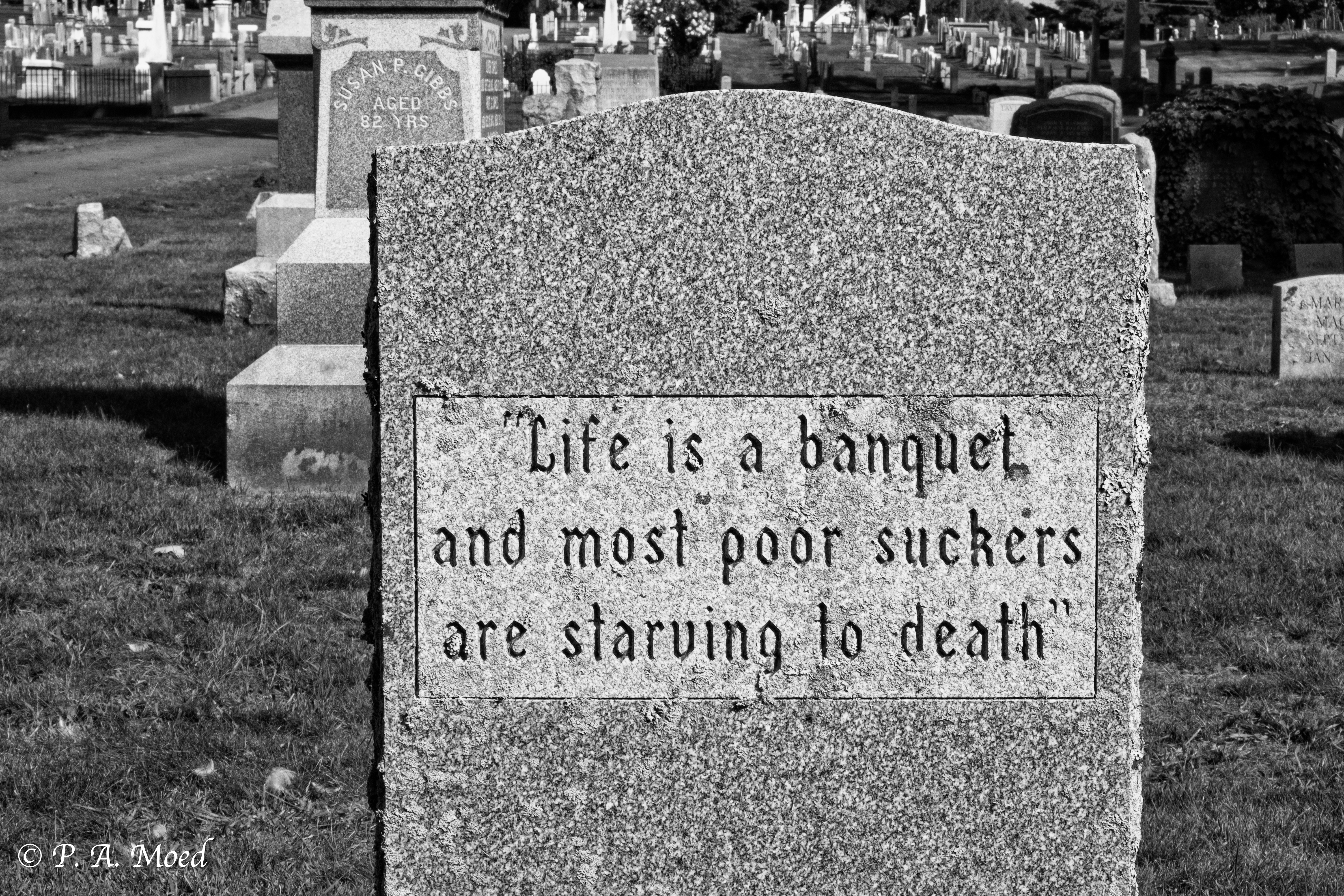 I hope you enjoyed my inspiration collection this week.  I'll close my post with one final thought about the root of the word "inspiration," which comes from the Latin word inspirare (to breathe in).  So, what's the connection from Latin to the modern use of the word?  Inspiration comes in a flash; it's a moment that startles us and makes us inhale in surprise and wonder.  I think inspirare also hints at the connection with the gods who breathe the upper, pure air, unlike us ordinary humans.  But isn't that really inspiration, after all?  It's the moment when we glimpse the divine amidst everyday life.
We are all looking forward to seeing your responses to Tina's "Inspiration" challenge.  Her thoughtful and beautiful post will certainly inspire you, too!  In your post, include a link to her original post and use the Lens-Artists tag so that everyone can find your article in the WP Reader section.
A special thanks to all of you in our creative community for your continued participation, support, enthusiasm, and creativity.  You inspire us!
Looking ahead, I'll be leading LAPC #116 on Saturday, September 26th, so don't forget to stop by and join the fun.  Until then, I hope you have a wonderful, creative week and stay safe.