In every walk in with nature one receives far more than he seeks.~John Muir
Last week, Rich and I set out on a mission–to explore the Wells Reserve at Laudholm, an historic sanctuary in coastal Maine and document what we found for this week's Lens-Artists Photo Challenge #117: A Photo Walk, hosted by our talented and creative friend, Amy of Share and Connect.
We set out early one morning and drove an half hour north to the reserve, which is vast. It spans 2,250 acres of protected land, including grasslands, wetlands, salt marshes, and an undeveloped sand beach. The area, originally settled by the Wabanaki Indians, was home to European settlers beginning in the 1600's.
We started our hike at the farmhouse, home to generations of dairy and poultry farmers who sold their products to locals and shipped them weekly to Boston. In this first shot, you can see the morning light highlighting the buttercream yellow facade of the house.
From there, we took a path through open fields, turning shades of autumn red and ochre. My aim in this shot was to emphasize the two farm buildings amidst an expanse of negative space.
As we continued our walk, the land changed. We hiked through some woods, which opened up into marshland. In this image, you can see the fall colors just starting to appear in the marsh grasses and along the tree line. Then, we kept walking until we saw another surprise.
The trail continued to a huge, open sandy beach, the largest we've seen so far in Maine. People were walking their dogs, flying kites, and playing in the sand. We spent a long time sitting in the sun and enjoying the peaceful almost-summer scene.
Leaving the beach, we headed back to the trail, which looped through the woods and passed a horse barn and the dairy.  I captured these beautiful red maple leaves in the process of changing colors and another building on the property in remarkably good condition.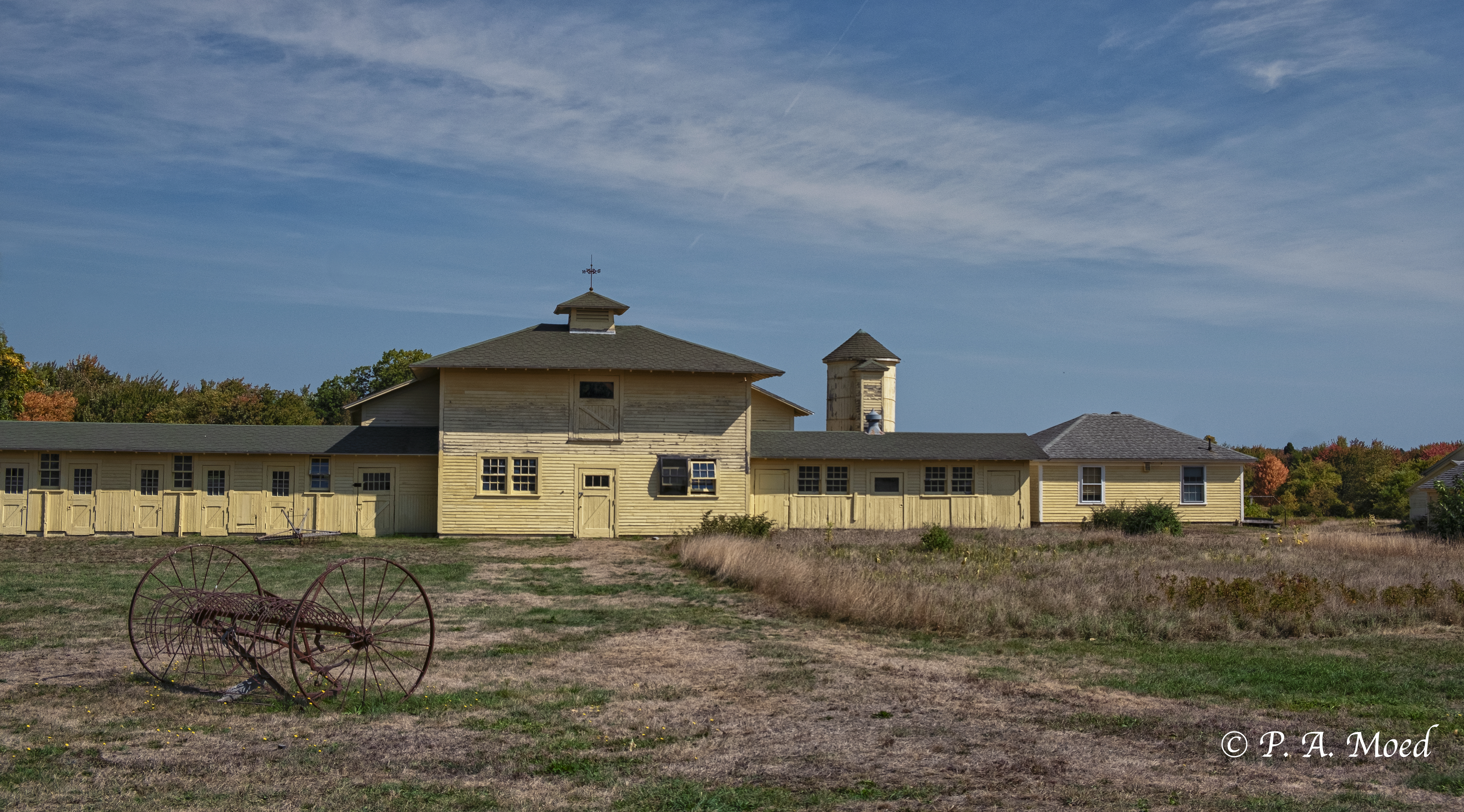 After our walk, it was no surprise that we were hungry.  So, we ended our trip with a picnic lunch, picked up at a local clam shack.  Fresh New England clam chowder for me and a lobster roll for Rich.  It was a perfect day for us–complete with beautiful weather, a scenic hike and good food. The diversity and beauty of this sanctuary puts it at the top of our list of parks in the area. The beach, the fields, the marshland, and the woods each had their own unique features and were a visual treat.  We vowed to come back.
A special thanks to Amy for hosting this week's Lens-Artists Photo Challenge #117 and inspiring us with the A Photo Walk theme. We hope you join the fun this week and share your walks near and far. In your post, include a link to Amy's original post and use the Lens-Artists tag so that everyone can find your post in the WP Reader.
Looking back, I want to say that I was delighted by your posts for the LAPC #116 Symmetry challenge last week. You treated us to images of symmetry in architecture, food, nature, living creatures, chess boards, squadrons of fighter planes, kitchen utensils and so much more…from all around the world. Once again, the variety and creativity of your posts were a visual treat for all of us.
Looking ahead, we hope you'll join us next week when our special guest host Biasini, Anne Leueen's clever horse, hosts our next challenge on her always-interesting blog Horse Addict.
In closing, a special thanks to all of you in our creative community for your continued participation, support, enthusiasm, and creativity. You always inspire us! I hope you have a wonderful, creative week and please stay safe.