Red is the ultimate cure for sadness.~Bill Blass
Sometimes in the middle of winter, the world is reduced to stark shades of black and white.  This is the time when my eyes are drawn to bursts of color.  I often notice coats, scarves, and other objects in bright shades of red–a happy color, especially in the winter.  No matter what the season, this color is emotional, fiery, and sensual.  It is hopeful and passionate.
For this week's Lens-Artists Photo Challenge, we're inviting you to a photo scavenger hunt to find things that are red. To get you started, I'll share my recent scavenger hunt for the color red in Savannah, Georgia.

Savannah did not suffer the ravages of the American Civil War because it was captured by the Union Army and not destroyed.  For this reason, its colonial architecture dating from the 1700 and 1800's is beautifully preserved.  In the last few decades these fabulous structures have been lovingly restored like this inn in the Historic District.  The colorful red flowers and flags caught my eye.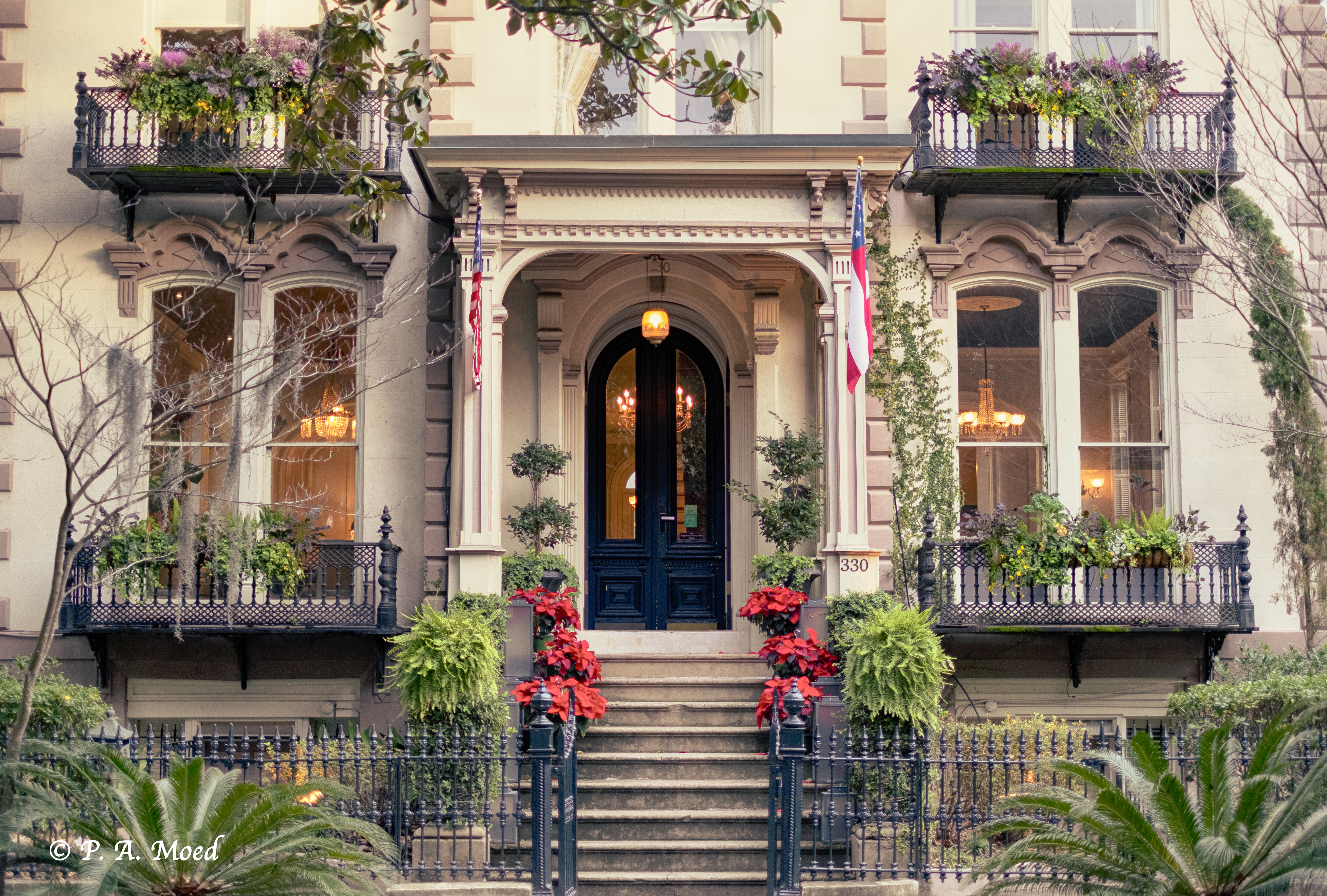 Put on your red shoes, and dance the blues.~David Bowie
On my hunt for "red" this week, I stopped by E. Shaver's, a local bookstore housed in a building dating from the 1800's.  The store is home to thousands of books and 3 cats, who curl up on the windowsills and tolerate admiring glances.  In the shop, I found this cozy corner with red pillows, carpet, and multiple "red" items.  How many can you find?  (Hint:  Look out the window, too.)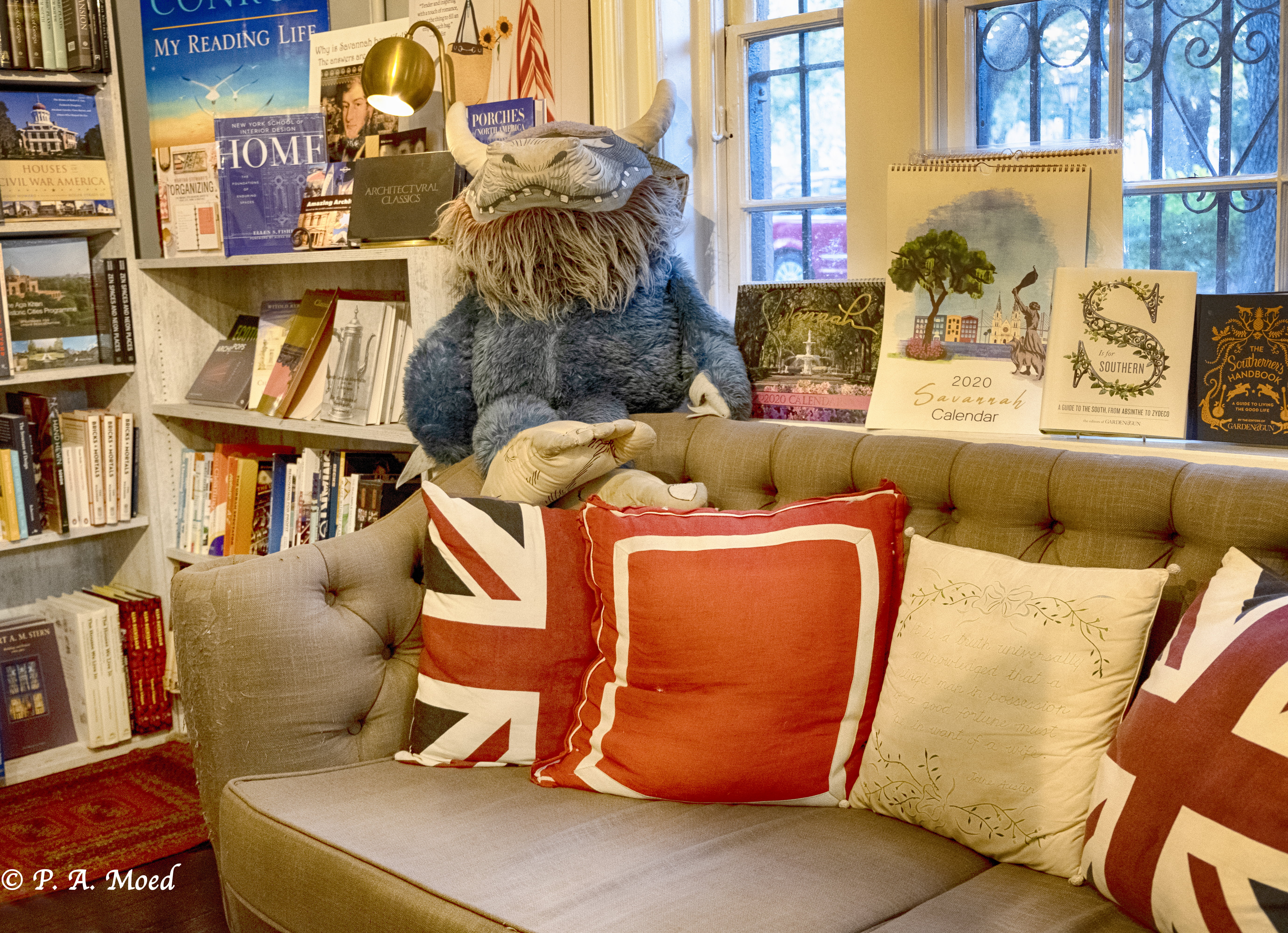 With a smile that glow'd Celestial rosy red, love's proper hue.~John Milton
Savannah is one of America's first planned cities, originally built around 24 unique squares.  While I was walking through Wright Square, the Lutheran Church of the Ascension with its bright red door caught my eye.  Near the church, you can also see a typical red brick townhouse and the traditional Spanish moss hanging from the cyprus trees.  Among the visitors that day, I spotted an artist sketching en plein air, and a mother with her child.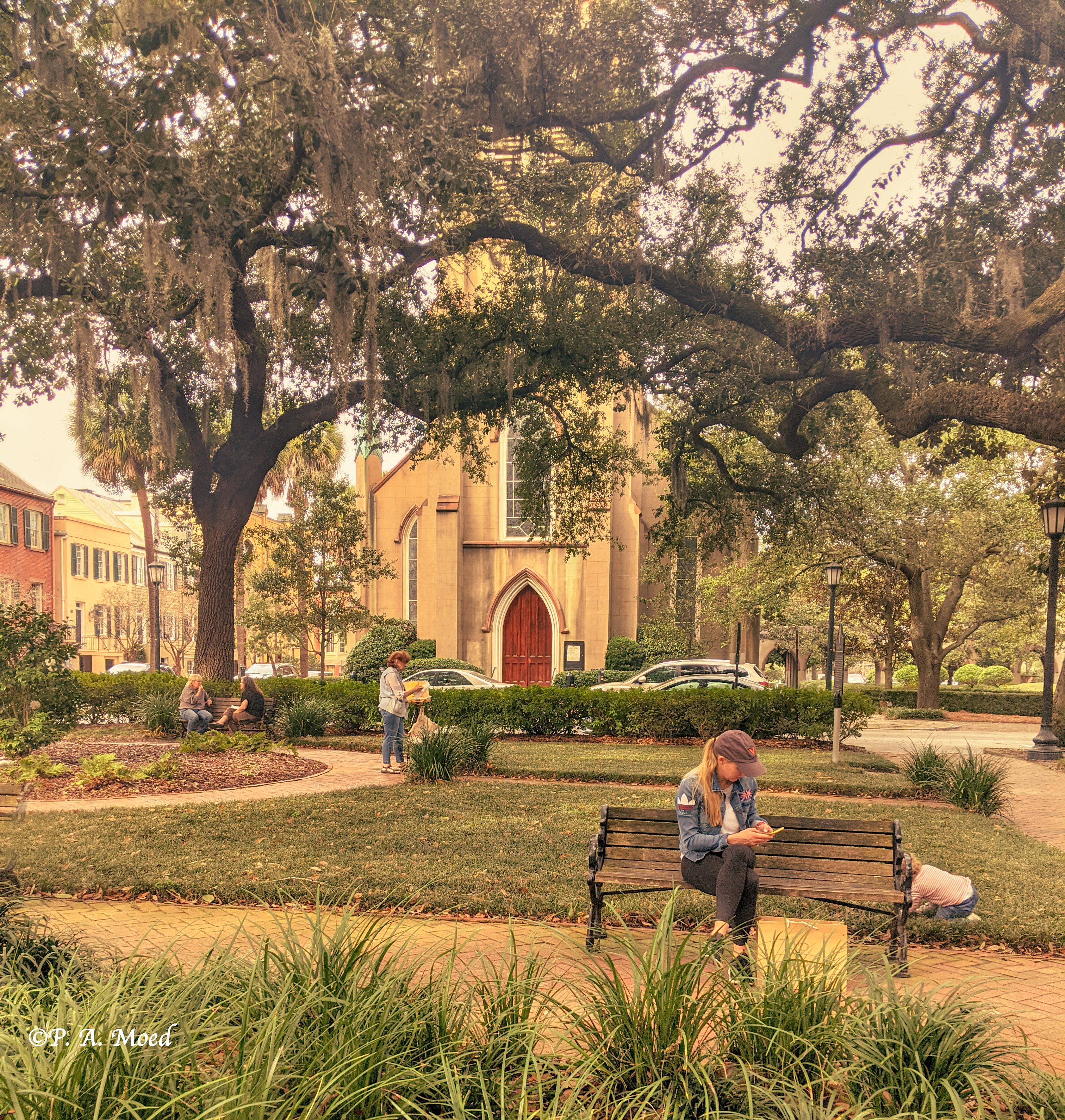 When I haven't any blue I use red.~Pablo Picasso
On a visit to the Telfair Museum, I spotted this wonderful painting in vibrant shades of red and blue.  It was one of my surprising "finds" this week.
This week, we invite you to share your "red" shots with us.  Your posts always surprise and delight us.
Here are some guidelines for this week's challenge:
Plan to visit a place near or far, such as a park, a neighborhood, a city, or even your own home.  If you wish, you have the option of "visiting" your photo archives.

Capture shots which feature the color red.  For an extra challenge, take (or find) a photo that has several red components.

Post as many photos as you wish.
If you visit a place, give yourself a set amount of time for the hunt, such as an afternoon, a day, or a weekend.
If you're new to the challenges, click here to learn how to join us.  Remember to link your post to this one and use the Lens-Artists tag to help us find your post in the WP Reader.
Have You Seen These Great Posts from Tina's Leading Lines Challenge Last Week?
A Special Announcement: 
All of us at Lens-Artists are delighted to announce that next week's challenge (#82) will be hosted by our special guest host, Viveka of My Guilty Pleasures.   Please be sure to visit Viveka's site on Saturday, February 1st to view her challenge.  For the rest of February, we'll return to our usual weekly schedule:
As always, Amy, Tina, Ann-Christine, and I look forward to seeing your creative responses to the challenge and thank you for your support!